LACF speaks about... 1./ Launching the inaugural Frederick Gage Todd National Scholarship in 2020, 2./ the award ceremony of the first Alain Lamontagne Scholarship in Landscape Architecture and, 3./  a new management agreement between the LACF and CSLA.  
---
1./ Launching the FREDERICK GAGE TODD National Scholarship in 2020

LACF is pleased to announce the inaugural Frederick Gage Todd National Scholarship (FGTNS). One prize of $10 000 will be awarded in Summer 2020 to an outstanding Canadian student enrolled in a CSLA-accredited program of landscape architecture. This scholarship recognizes a student who demonstrates exceptional knowledge, skill and commitment directed to the advancement of Canadian landscapes through the practice of landscape architecture.
LACF established this award to:
recognize and encourage outstanding scholars who are preparing for entry into the profession;
champion design for ecosystem health and human well-being; and
celebrate the legacy of Frederick Gage Todd, a founder of the landscape architecture profession in Canada.
For complete information regarding admissibility requirements and application procedures see National Scholarships  or view and download : FGTNS_ Application procedure and submission requirements.  Deadline for applications is May 1, 2020.
---
2./ Alain Lamontagne Scholarship Ceremony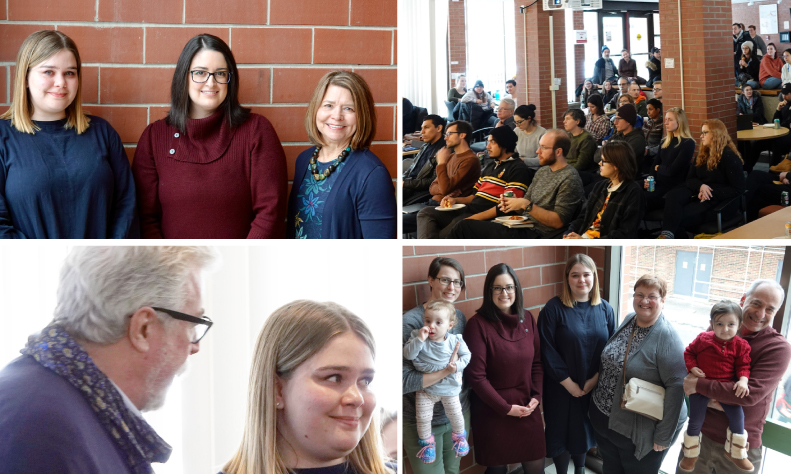 The first Alain Lamontagne Scholarship in Landscape Architecture was presented to Beth Bray, 4th year BLA student, in a touching ceremony held at the University of Guelph on February 6th, 2020.  BLA alumnus Peter Kreuk, principal of Durante Kreuk (dk) in Vancouver, endowed this award in memory of Alain Lamontagne, who was a graduate of the BLA program in 2008 and a valued member of the dk team in Vancouver BC. Alain Lamontagne left this world too soon on June 20, 2018. Alain was remembered for his dedication to landscape architecture and his legacy of community and built works in the Vancouver area. In attendance were staff and students from the school as well as many of Alain's family members. UofG Professor Emerita, Cecelia Paine, presented the award on behalf of Peter Kreuk, the dk family and LACF.  George Dark, Governor-General medalist and UofG alumnus, was at the school to give a presentation to students following the ceremony. He congratulated Beth who, coincidently, had worked as a student intern with him last summer. It was a memorable ceremony for all. Congratulations Beth Bray.
---
3./ LACF + CSLA Management Contract 

The Landscape Architecture Canada Foundation (LACF) and The Canadian Society of Landscape Architects (CSLA) jointly announce a management contract has been made between the two organizations. The agreement appoints Michelle Legault as LACF Executive Director. According to Vincent Asselin, LACF President:
"We are very pleased that the CSLA has agreed to put its staff and its management systems to use for LACF. This change will this benefit LACF by enhancing its impact and allowing the Foundation to develop and implement initiatives which require regular staff, such as enhanced marketing and communications plans".
Ms. Legault will be responsible for overseeing and managing LACF's communications, governance and supporting its committees. The financial management of LACF will remain with the treasurer, Peter Kreuk. Most importantly, the governance of the two organizations remain independent. LACF administration will be transferred to CSLA over the next few months. This administrative agreement represents a very positive move and is an historic moment in the Foundation's 30+ year history.