National Scholarship Recipients
Nicole Dulong: Frederick Gage Todd National Scholarship
Nicole Dulong is a third year Master of Landscape Architecture student at the UBC School of Architecture + Landscape Architecture. She was born in Toronto (Tkaronto) on Treaty 13 Territory where she attained a Bachelor in Geographic Analysis from Toronto Metropolitan University in 2015. Presently, she resides and studies on the unceded and unsurrendered territories of the xʷməθkwəy̓əm , Skwxwú7mesh, and Səl̓ílwətaɬ Nations. Since time immemorial, the Coast Salish Nations have shaped and stewarded the land she presently works to protect, and it is to their knowledge and practice that she is forever indebted.
Jordan Cantafio: Peter Jacobs Indigenous Scholarship and BC2 Indigenous Scholarship
Jordan Cantafio is a Red River Metis student studying at the University of Manitoba currently  completing his practicum to receive his Masters of Landscape Architecture. His practicum  focuses on utilizing macrophytes in a Canadian climate to extract mercurial contamination from  a large scale aquatic environment. Specifically, his research looks at the water contamination of  the English-Wabigoon River system in western Ontario originating from the Dryden chlor-alkali  plant that has greatly affected both the aquatic ecology and the communities along the  watercourse such as Grassy Narrows and Whitedog First Nation. Jordan Co-Chairs the  Indigenous Design & Planning Students Association (IDPSA), whose mandate is to promote and  maintain Indigenous representation in the Faculty. Jordan is working to integrate specific and  reliable Indigenous content into curriculum and coursework, while ensuring recognition of  context specific differences in communities and cultures. Jordan currently works closely with the  Elder in Residence and is engaged in several projects, both at the University and in community.  Jordan expresses his sincere and full appreciation for being recognized and awarded with these scholarships. The awards will significantly aid him in the focus of his practicum, and allow for  him to maintain the schedule to present a final practicum in May 2023, and graduate by October 2023. The support for Indigenous students in this field is greatly important to the present and  future of Landscape Architecture, and allows for Indigenous voices to be at the forefront of this  profession, displaying an abundance of knowledge and experience with the Land.
Regional Scholarship Recipients
Chloé Henri: Bourse d'études de voyage Danièle Routaboule
With a bachelor's degree in environmental design and soon to complete her master's degree in landscape architecture, Chloé Henri explores the relationship between humans and their environment through the multiple scales of design. Her background in visual arts and her experiences working abroad guide a holistic conceptual process with an aesthetic concern. Her interest in Indigenous issues has led her to undertake university training on the subject and to participate in an anthropological study within a community. She is particularly interested in landscapes as a vehicle for self-determination and political leverage. In this way, she directs her practice towards tactical urbanism using design as a tool towards inclusiveness, environmental awareness and heritage conservation. She has worked with several social and solidarity organizations that address urban resilience through transitional architecture, urban agriculture, pollinator conservation through honeycombing, heat island mitigation and community landscape enhancement. Chloé is preparing her end-of-study project, which she will carry out in partnership with the Atikamekw community of Manawan. Faced with the multiple issues that reside on the reserve, the project intends to call upon the members of the community to deploy a participatory design that will use the landscape in response to a targeted problem. The goal is to bring local initiatives to the forefront and highlight the intrinsic qualities of the territory to the outside world. This initiative is the beginning of a professional approach that focuses on empowering planners through reconciliation.
Madiha Mehdi: Canadian Landscape Charter, University of Calgary Scholarship
Madiha is a second year Master of Landscape Architecture student at SAPL, with an Undergraduate degree in architecture from India. She is also a research assistant at Center for Civilization, University of Calgary. Before commencing her graduate degree, she worked at an architectural design firm for two years, but her love for nature and desire to give back to the community led her to join a non-profit organization that assists marginalized farmers and practices afforestation across India. Her desire to learn more about outdoor spaces encouraged her to pursue an MLA degree. She is highly interested in exploring how spaces can be made more inclusive and diverse, and research placemaking in urban areas with a focus on underrepresented communities. She is grateful for the scholarship, which encourages her to work hard and make an impact beyond herself by way of landscape design through her career and efforts. 
Liam Doyle: Peter Klynstra Memorial Scholarship
Liam works and studies in Ontario, but he grew up in the Annapolis Valley and is looking forward to reconnecting with the East Coast after he graduates in 2024. He was drawn to landscape architecture as a field in which he could apply his background in ecological restoration to solve complex spatial problems at the intersection of social and ecological crises. Receiving the Peter Klynstra Memorial Scholarship will relieve some financial pressure during the summer and let him prepare for his third-year thesis without the concern that he should be working longer hours to cover the rising cost of living.
Thomas Nguyen: Atlantic Landscape / Dalhousie Scholarship
Thomas was born in Vietnam and came to Fredericton, New Brunswick, Canada, in 2014. He is pursuing landscape architecture because of his love for nature and design. His time spent at Glenn Group Ltd. during high school and his travel experience before coming to Canada solidified this career choice. This scholarship means a lot to him: it proved that his hard work paid off and that he has what it takes to become a professional landscape architect. He hopes to design and work on projects that conserve nature and improve people's quality of life, and this scholarship will help him get there.
Florian Satger: AAPQ 50th Anniversary Scholarship
Trained in urban planning in France, Florian first became interested in regional planning and the management of nature areas. These subjects naturally led him to the study of landscape, for its sensitive dimension and its holistic approach to territories. Currently completing his Master's degree in Landscape Architecture, Florian is exploring his particular attraction to the landscape experience and the dynamics of the body in space, as well as the translation of a conceptual and theoretical framework into design. This scholarship recognizes Florian's investment in his studies and his curiosity to explore the boundaries of the discipline.
Emma Cervinka: University of Guelph BLA
This scholarship is a most welcome award as Emma works through her fourth year of the BLA program. The scholarship will help support the remainder of her education at the University of Guelph and will open doors to various educational experiences and enrichment activities as she plans to begin her professional career, whether that be through supporting software subscriptions, skill advancement courses, or conference attendance. 
Tiffany Adair: University of Guelph MLA
Tiffany is a Metis woman, from Edmonton, Alberta. Landscape architecture combines what she is most interested in and passionate about. The driving force behind all those interests is her love for our more-than-human kin and the capacity of the profession to contribute to their protection and thriving. She is also committed to reconciliation and decolonization efforts that support Indigenous communities in Canada. This award will contribute to her current research goals, skill and knowledge development in her MLA thesis, which is an important and foundational first step on her career journey.
Shayla Spalding: Alain Lamontagne (Guelph BLA) Scholarship
Shayla is incredibly grateful for the opportunities this scholarship will provide to improve her skills while finishing her degree and once she is working as a landscape architect. The funds will allow her to access more tools to realize her ideas while out in the field, giving her the opportunity to be more spontaneous and creative in the design process.
Ying Zheng: University of Toronto MLA Scholarship
Ying is a third-year MLA student at the University of Toronto, who previously studied environmental science in Beijing, urban planning in Calgary and practiced urban design in Toronto. Interest in re-imagining and reshaping the existing urban environment led her to the field of landscape architecture. Her studies have encouraged her to embed her observations and experiences from different disciplines and cities into an exploration of landscape urbanism crossing different scales and medias. This scholarship will fund further exploration into new potentials for cultural landscapes, specifically in her thesis focused on how urban relationships can be transformed using wild edible fungi.
Lindsay Mamchur: Andre Schwabenbauer / University of Manitoba MLA Scholarship
Throughout Lindsay's design education, she has been drawn to the carefulness, sensitivity, and challenge inherent in working with living materials and processes. She considers the role of landscape architects in wider society as those who are compelled to engage and advocate for environmental phenomena that they notice and may otherwise be overlooked. The Andre Schwabenbauer Scholarship will offer her greater security in my goal of entering this role.
Smile Singh: SALA Academic Award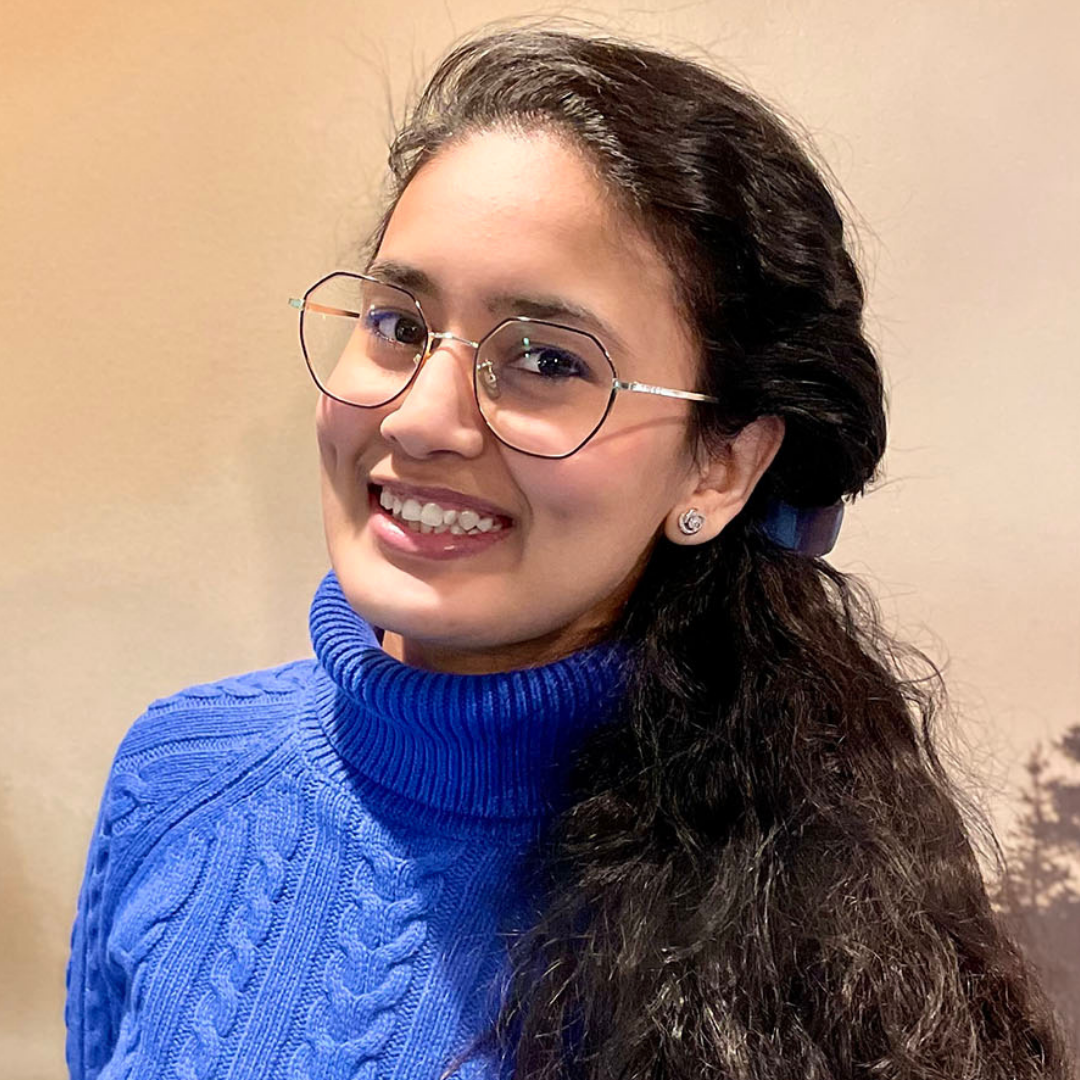 Coming from a background in architecture, Smile went into landscape architecture to find the missing link which connects architecture and environment together. She worked for a landscape architecture firm to understand more about the discipline before starting her MLA degree at the University of Manitoba. Along with her studies, she currently works part time as a junior landscape designer at Scatliff+Miller+Murray. She believes in the power of landscape architecture as a profession to solve critical social and environmental issues and to be a social equalizer. She is honored and grateful to receive this award, this recognition motivates her to work hard and continue to gain more knowledge in this vast field
Rosalyn Estoque: University of Calgary MLA Scholarship
Rosalyn has a background in the History of Art and Design, and has worked as a landscape architectural technologist prior to attending SAPL. In addition to her studies, she is actively working as a landscape designer at ground cubed landscape architects, assisting both the Calgary and Edmonton offices. Rosalyn sees landscape architecture as the exterior space and network for all living things to interact with. She is drawn to how this field of work has the ability to reclaim and celebrate long-lost outdoor environments by providing them with the amenities and design for a better future.
Meredith Wilson: UBC Scholarship in Landscape Architecture
Meredith grew up on a farm in southern Ontario and studied biological sciences before coming to Vancouver for the MLA program. Landscape architecture has opened her eyes to how the creative process and meaningful engagement with the landscape can materialize into positive, tangible outcomes for both human and nonhuman communities. The more she learns about the field, the more opportunities she sees for design to help rekindle our relationship with the natural world. Meredith is incredibly appreciative of the recognition
from the design community and is encouraged to continue her pursuit of a locally-grounded, immersive and thoughtful design practice.
Heidi Evans: BCSLA Robillard Scholarship in Landscape Architecture
Originally from New Brunswick, Heidi comes from a long line of east coasters with strong connections to the sea, the land and the built environment. She completed her undergraduate in Industrial Design at Carleton University, where she recognized that her passion was not with designing products, but rather in exploring how humans relate to their built and natural environments physically, socially and psychologically. This realization is what led her to pursue the Dual Degree Program at UBC. The BCSLA Robillard Scholarship in Landscape Architecture would mean an ease on the financial pressures that come along with undertaking a four year degree so far from home.