CSLA CONGRESS IN WINNIPEG was TOTALLY AWESOME!  The theme "Home-inspired locally" was developed creatively throughout the program and Manitoban hospitality and generosity were upfront and center to the almost 300 delegates that participated.  Heartfelt thanks to our MALA hosts for the biggest and best Congress ever.  Over the course of the three day event LACF said good-bye to some key players and also had a chance to shine! 
NOTEWORTHY MEMBERS STEP DOWN ...
ORGANIZATIONAL CHANGE is on the horizon with LACF Board of Directors member Don Hester (Treasurer) and staff members Kari MacKinnon (Financial Administrator) and Paulette Vinette [Executive Director] stepping down.  Notably, Don and Kari leave their positions after almost a decade of serving the Foundation.  Don H. remains on the Board of Directors and Paulette, who served for two intense years as ED, will continue to volunteer on the communications committee. President Vincent Asselin thanked Don, Kari and Paulette for their individual and collective contributions to the Foundation. 
WORK SESSION AND ANNUAL MEMBERS MEETING 2016 (AMM)
THE BOARD OF DIRECTORS  work session and the Annual Members Meeting were upbeat and focused. Dr. Colleen Mercer Clark, Chair of the CSLA's Climate Change Adaptation Task Force, gave an inspiring presentation to the Board about addressing climate change with resilience, innovation and creativity and advancing these ideas through Research, Scholarship and Communication initiatives that fall within LACF's mission. The AMM focused on the annual report including the expansion of the Scholarship program, increasing collaboration with component associations, future fundraising activities and establishing a corporate sponsorship strategy and new partnerships.  
Peter Kreuk was appointed Treasurer for the balance of Don's term which will terminate in 2017. LACF is also pleased to welcome Sara-Jane Greuztner, AALA, FCSLA and past CSLA President to the Board of Directors.  Minutes from the meetings to be posted online soon. 
SALA STEPS FORWARD... 

LAUREEN SNOOK, SALA PRESIDENT, made the exciting announcement that SALA membership has decided to donate a significant sum of money [between $50,000 and $60,000] to LACF.   LACF and SALA will establish a MOU, establishing the management and reporting of this fund that has been operating since 1986.   SALA has been awarding a $1,500 scholarship annually to a deserving student who remains resident in Saskatchewan. The fund will continue to be administered by SALA representative Ingrid Theissen.  President Vincent Asselin thanked SALA on behalf of LACF for this generous donation and confirmed that the foundation looks forward to working closely with SALA in the future. 
WINNING WINNIPEG SOCIAL AND GALA BANQUET...
DESPITE THE RAIN and the electricity in the air, the Winnipeg Social held in support of LACF was an opportunity for LA's to socialize in a relaxed atmosphere on the old rail bridge at the historic Winnipeg Forks.  Selected photographs from the first edition of the Canadian Landscape Portfolio along with other prizes were part of successful silent auction with proceeds raised from the event, yet to be released.  LACF thanks MALA Bob Somers and his team for sharing this creative tradition with all and for their ongoing support. 
AFTER A MOVING FELLOWS INVESTITURE ceremony and reception, the CSLA Gala Banquet showcased Canada's best in Landscape Architecture featuring the Annual Awards of Recognition and Excellence.  A special tribute was made to Cornelia Hahn Oberlander, winner of the first Governor Generals award of Canada with Cornelia's speech receiving a standing ovation from the crowd.   The evening ended with a spontaneous reverse auction in support of LACF thanks to Michelle Legault, CSLA Executive Director who led the call.  LA's rose to the occasion and pledged over $32,000 in donations and pledges to LACF. CAM PATTERSON's Artwork and other door prizes generated approximately $3000 for the Andre Schwabenbauer Scholarship.   Funds raised will help support the expanded Scholarship program and Annual Grants Program.  A big LACF THANK YOU to Michelle and to all those who participated and contributed so generously.  
SAVE THE DATE AND RESERVE YOUR TICKETS ... 
CSLA, IN COOPERATION WITH  LACF, will host a dinner and reception in honor of Cornelia Hahn Oberlander, first recipient of the Governor General's Medal of Canada in Landscape Architecture.  This extraordinary event will be held in Ottawa, at the Chateau Laurier Hotel on September 20th, 2016,  Funds raised will benefit the LACF Annual Research Program. Get your tickets to this event here.
UBC AWARDS INAUGURAL LACF / UBC Scholarship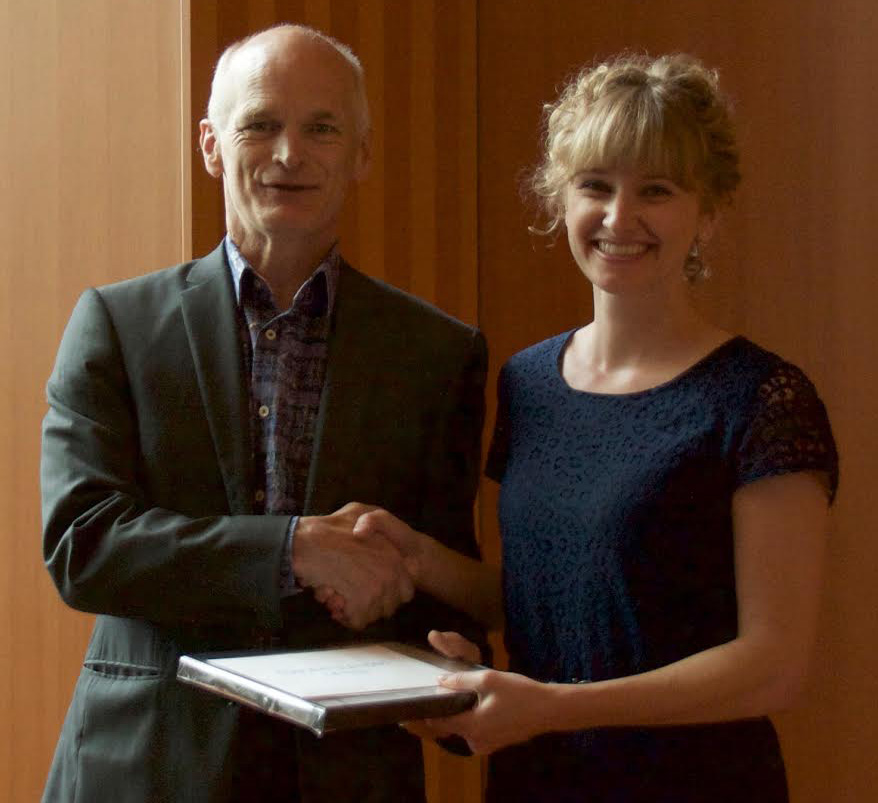 PETER KREUK PRESENTS the inaugural LACF / UBC Scholarship in Landscape Architecture to Caylee Dyck at a UBC ceremony in Vancouver.  This scholarship recognizes demonstrated design creativity and commitment to sustainability, ecosystem biodiversity, sustainable food systems, resource management or community building. Congratulations Caylee!
ENJOY THE REST OF YOUR SUMMER!  Next eNews update: September 2016