In short...2017 has been good for the Foundation. As the year draws to a close, LACF proudly congratulates our 2017 scholars, announces the results of the 2018 Grants Program "Call for Proposals" and reports that landscape architects and friends of LACF pledged their support generously this year at the CSLA Congress in Montreal.
LACF also respectfully bids adieu to two giants of the profession who helped establish and shape LACF over the last 30 years:  Günter Schoch and Don Graham. And here is a reminder that the Annual Campaign of Fellows extends until Dec. 31st so please give generously towards LACF Scholarships of your choice. Thank you and Seasons Greetings to all. 
LACF SCHOLARS
LACF is pleased to congratulate our 2017 shcolars including: six (6) Schwabenbauer Scholars; two (2) Atlantic Provinces laureates and the recipient of the LACF / UBC Scholarship in landscape architecture. LACF honours and recognizes the potential of each of these students who will undoubtedly contribute to shaping the profession of landscape architecture in the future. 
LACF NATIONAL ANDRE SCHWABENBAUER SCHOLARSHIP 
 Andre Schwabenbauer 
The LACF National Schwabenbauer Scholarship is named in honour of former Canadian Society of Landscape Architects president Andre Schwabenbauer.  This Scholarship award recognizes a student, from each of the accredited programs of Landscape Architecture in Canada, for excellence in design.  
2017 SCHWABENBAUER SCHOLARS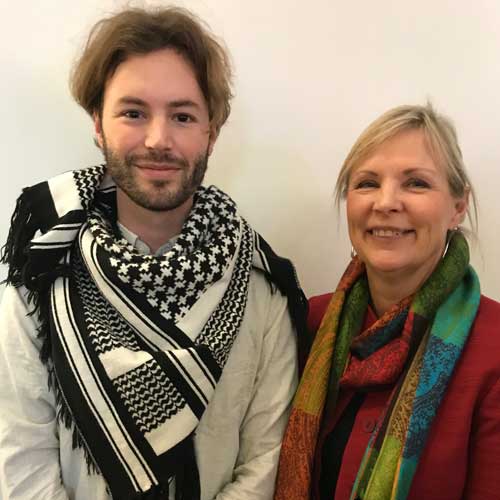 The 2017 Schwabenbauer Scholars are (from top left to right):  
Vincent Javet,
University of Toronto MLA (with Eha Naylor, LACF rep.)
Lindsey McCain,
University of Guelph BLA
Ms. Luozijie (Katherine) Xie,
University of Guelph MLA
Nicole Alden,
University of British Columbia (with LACF rep. Peter Kreuk)
Marianne Pascual,
Université de Montréal MAP (with Program director Franck Scherrer and LACF rep. Jean Landry)
Dilaxshy Sivagurunathan
, University of Manitoba MLA (not shown here)   
Meet all the 2017 LACF | FAPC SCHOLARS here!
LAUREATES FROM THE ATLANTIC PROVINCES and UBC
This year, the Atlantic Provinces announce two scholarship recipients.  Both Scholarships awarded: Peter Klynstra Memorial and the recent Atlantic Landscape LACF Dalhousie, support students with career interests in Atlantic Canada.  The Atlantic provinces 2017 LACF laureates have an attachment to the land that originated on the east coast, though work and study have taken them across this country on their journey to discover landscape architecture.  Their dedication to studies has earned them earned high praise from university faculty.
On the other side of the country, the recipient of the LACF / UBC Scholarship in landcape architecture is inspired by a different landscape and equally praised by faculty representatives who nominated her. BRAVO to all! 
  Aiden Fudge _Klynstra                    Joan Cole  _ Atlantique Landscpae        Tayler Boisjoli _ FAPC/UBC                                                                 
Congratulations to: 
Aiden Fudge, University of Guelph MLA
Peter Klynstra Memorial Scholarship
The Peter Klynstra Memorial Scholarship was established in 2012 to commemorate Peter Klynstra, a dynamic and enthusiastic Landscape Architect from Halifax who relentlessly promoted the values of the profession. 
Joan Cole, Dalhousie University, BLA
Atlantic Landscape LACF Dalhousie Scholarship (Inaugural award)
The Atlantic Landscape LACF Dalhousie Scholarship established in 2017 in partnership with the APALA and the Canadian Nursery Landscape Associations across the Atlantic provinces in celebration of the establishment of Atlantic Canada's first landscape architecture program at Dalhousie University.  
Taylor Boisjoli,
University of British Columbia MLA
LACF / UBC Scholarship in Landscape Architecture 
Scholarship established in 2016 and awarded to an outstanding student registered in the second or third year of the Masters Program.  
Meet all the 2017 LACF | FAPC SCHOLARS here!
AN INTERESTING CROP OF (GRANT) PROPOSALS FOR 2018
  Canadian Landsape Portfolio _ seeing red_ SALA _ an LACF Grant project 2016 > CLP-PPC.org
"Once again, we have an interesting crop of Grant proposals this year," says LACF Grants Program Committee Chair, Faye Langmaid. ''The Grants Committee is pleased with the high level of response (14) and the quality of the submissions received from both practitioners and students alike".
In 2018, the Grants Program budget is established at 26,500 $ including up to $ 5000 for submissions relating to Northern Research and $1500 from the Gunter Schoch Bursary for worthy proposals that address the history of the profession in Canada. All annual grant proposals are adjudicated and awarded by a national jury composed of six individuals representing Canada's different regions.  
This year's Grants Jury consists of Hope Parnham (Atlantic), Myke Hodgins (Québec), John Zvonar (Ontario),  Nataša Juck (Prairie), Randy Sharp (British Columbia) and Karen LeGresley Hamre (North).   LACF thanks the Jury members for their work and their commitment and look forward to receiving their recommendations in January. 
THE LITTLE FOUNDATION THAT GREW! 
LACF has come along way in the last 30 years with donations received totalling more than one million dollars!
At the CSLA Banquet during October's Congress and World Design Summit in Montreal 2017, CSLA and LACF president, Vincent Asselin, lead a call for donations that inspired those attending to stand up and pledge their support for LACF to the amount of close to $59 000 +.  Thanks to all those who pledged their allegiance to the cause of making the world a better place. 2018 marks the 30th anniversary of the Foundation and LACF is making no small plans.  But first, we want to thank all our members and friends for helping us get to where we are today. 
TWO CANADIAN PIONEERS 
LACF wishes to respectfully acknowledge the passing this fall, of two pioneer Canadian Landscape architects.  Both men were fundamental in establishing and carrying forward the work of the Foundation over the last thirty years. Their legacy will be remembered. 
Günter Schoch, FCSLA, MALA, 
 Günter Schoch was 88 when he passed on September 7, 2017. Shortly after immigrating to Canada in 1953, Günter joined the staff of the Winnipeg Parks and Recreation Department (1955). A vast number of Winnipeg's public open spaces bear the hallmarks of Gunter's influence during his 34 years of service. Günter also served for 20 years as MALA Treasurer (1978-97) and eight years as MALA's first Executive Director (1989-97). He accepted the office of LACF Treasurer in 1992, and also became Secretary-Treasurer of the College of Fellows and held these positions for 16 years. In 1994, MALA established the Günter A. Schoch Bursary Fund under the auspices of the Landscape Architecture Canada Foundation (LACF) The fund was designated to offer bursaries "for landscape architectural research into the history and status of the profession in Canada, including its organizations and notable practitioners."  
Learn more about Gunther Schoch Bursary  
Don Graham, FCSLA, ASLA, AAPQ, OALA 
Don Graham, passed away Nov.4th, just shy of his 87th birthday. He was a well-known practitioner and established the firm of DW Graham and Associates in Ottawa (c.1962) shortly after graduating from the Harvard Graduate School of Design.  He planned and designed responsible greenspaces in the Ottawa region and beyond for over 30 years. He was a CSLA Fellow, CSLA Past President (1964), early member of the OALA and one of the founding members of the AAPQ. Don helped envision and eventually establish the Landscape Architecture Canada Foundation (LACF) in 1988 and remained engaged throughout his lifetime to advancing and promoting the values of the profession. Don left a bequest of $10 000 to LACF in his will and he was proud of how the Foundation had developed over the years. Donations in his memory, well received, will go towards creating a bursary in his name to carry on his legacy. 
CAMPAIGN OF FELLOWS
The CSLA College of Fellows 2017 Fundraising Campaign in support of LACF is now underway until Dec. 31. The focus of this year's campaign is on building our regional scholarships and the National Andre Schwabenbauer Scholarship. Learn more about the COF campaign by reading COF president Alan Duncan's appeal to the Fellows 2017. You can Donate online here
Happy Holidays and a Healthy and prosperous New Year from LACF!