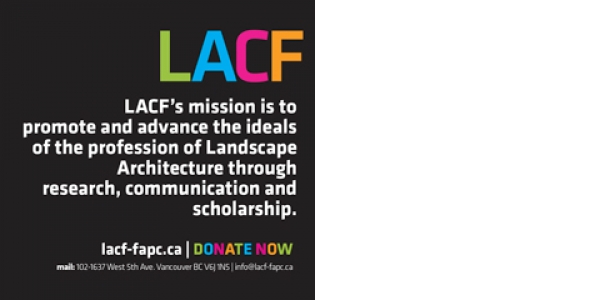 All LACF MEMBERS are invited to be heard at the AMM over a continental breakfast on Saturday June 26th. A new scholarship strategy and the emerging strategic plan will be part of the discussion.  Please join in. 
ANNUAL MEMBERS' MEETING (AMM ) DOCUMENTSARE NOW POSTED 
The Annual  Members Meeting of the LANDSCAPE ARCHITECTURE CANADA FOUNDATION (LACF) will be held Saturday, June 26 at 7:30 -8:45 am in the Assiniboine A Room at the Fort Garry Hotel during the CSLA ANNUAL CONGRES 2016 to be held in Winnipeg, Manitoba. 
All LACF members are invited to attend. If you made a financial contribution of $100.00 or more to LACF in 2015, you are an LACF member.  
PDF Documents of the following are posted below:
>  The AMM minutes 2015
>  LACF | FAPC Annual Report 2015,
>  AMM Agenda 2016,
>  The proxy form 2016,
>  LACF Bylaws,
>  Nominating Committee Report 2016.
You can participate in the AGM virtually and at no cost via: global.gotomeeting detailed on the AMM 2016 Agenda.
You can also dial in using your phone.  +1 (647) 497-9372 Access Code: 818-691-917   
See you in Winnipeg!
CONTACT:
Paulette Vinette, CAE, FASAE  Executive Director, LACF
paulette.vinette@gmail.com