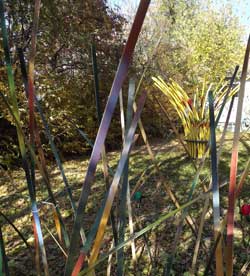 Sonic Sculpture Research 
Don Hill, artist, author and broadcaster
EN_ With funds from the Edmonton Arts Council, Canada Council and a LACF annual grant in 2011, Don investigated the psychoscoustic properties of the carillon bells in Winston Churchill Square, downtown Edmonton.  In 2013, the LACF seed funding will assist with continued research into 'sonic crystal' acoustic sculpture.  Don intends to experiment with the 'sonic crystal' affect from the perspective of being inside and walking a prescribed  pathway through a sound sculpture, he intends on evaluating the qualities of different materials applied to various surfaces to determine their effect.
---
Recherche sur Sculptures Acoustiques
Dan Hill 
FR_ Grâce au financement du Conseil des arts d'Edmonton, du Conseil des arts du Canada et d'une bourse de la FAPC en 2011, Don s'est penché sur les propriétés psychoacoustiques des cloches du carillon de la place Winston Churchill, dans le centre-ville d'Edmonton. En 2013, le petit coup de pouce financier de la FAPC l'aidera à poursuivre ses recherches sur une sculpture acoustique à cristaux. Don a l'intention d'orienter ses recherches sur l'effet du cristal acoustique ressenti de l'intérieur en suivant un chemin préétabli à travers une sculpture sonore. Il évaluera les qualités de différentes matières appliquées sur diverses surfaces et en déterminera les effets.