One magazine ... A collective voice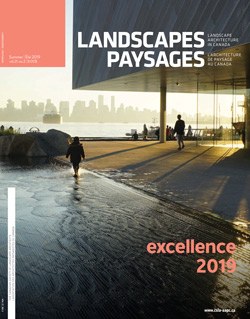 Read More   > LP Spring 2019 Awards of Excellence
Peruse L|P and connect to content... 
LACF is proud to have generously supported CSLA's National Quarterly magazine LANDSCAPES | PAYSAGES, over the last 20 years.  Although the magazine's last request for LACF funding was in 2009 (CSLA 75th anniversary special edition), funds provided were instrumental in helping to initially establish the magazine in 1999.  Subsequent funding was for graphic design, production of special editions and translating costs. This now self-sustaining and award-winning review is celebrating its 20th anniversary. The paper and digital pages of the magazine continue to showcase design excellence with a Canadian flair and feature articles submitted by volunteer landscape architects, allied professionals and students about environmental and human challenges we face today.  Landscapes | Paysages represents a shared collective passion about the world around us and bears witness to how the profession of Landscape Architecture in Canada has evolved over the last 2 decades. 
The wide distribution of LANDSCAPES | PAYSAGES provides a highly visible public and professional forum for landscape architect designers, academics, students and researchers to feature their work and the publication continues to feature the works and voices of landscape architects across the country. LP Quarterly Magazine and back issues are readily available on the CSLA website.  
Happy 20th Birthday  Landscapes | Paysages!
To consult Landscapes | Paysages back issues, visit the CSLA website