Showcasing the 2019 Research Grants
Seeking a better understanding of the links between landscapes and governance, culture, physical and mental health, economic development and environment - 
Canadian Landscape Charter
Imaginative, creative, global, local, historical, cultural, northern and scholarly initiatives for 2019
In January 2019, LACF awarded $34,500 in grants and bursaries through its annual grant program to 9 grant recipients. The 2019 Research Grants Portfolio showcases the projects selected for funding and provides an overview of the diverse and inspiring LACF-seeded initiatives funded by this  program. This year there are 5 professional awards and 4 student awards.
Each selected project exemplifies the values of the Canadian Landscape Charter and subscribes to LACF's mission by documenting the expanding role landscape architects play in providing social, cultural, ecological, economic and health benefits to society. 2019 marks the first time a bursary has been awarded from the Donald Graham Bursary  Fund and a second time from the Northern Research Bursary Fund. 
Congratulations to all award recipients. 
---
Professional Grant & Bursary Awards 2019
1. Landmarks in Landscape Architecture 
Dr. Alan Tate, University of Manitoba /  Recipient of the inaugural Donald Graham Bursary / Grant $5,000
Support for the preparation of a book and its publication with the working title Landmarks in Landscape Architecture. The main underlying theme is that significant works of landscape architecture from whatever era or location continue to exist because they express values and demonstrate design intentions that remain valid and continue to inform the practice of landscape architecture.  
Portfolio Archives #152
---
2. Studio Problématiques: Thinking critically about Canadian Landscapes 
Heather Braiden, Marcella Eaton, Susan Herrington, Karen Landman, Alissa North, Enrica Dall'Ara, Nicole Valois / Grant $4,500
This group of researchers from across Canada is working to address barriers and collaborate on research projects. In 2017 the group created the Land|Terre Design Research Network (LTD Research Network), formally introduced at a Colloquium in Winnipeg in 2018 and supported by LACF.  The ultimate goal is to build on the foundation of LTD Research Network and foster discussions of landscape architecture research, education, and practice in Canada.  
Portfolio Archives #151 
---
3. Undone – The Return to Earth 
Emilia Hurd and Julia Smackylo / Grant $6,000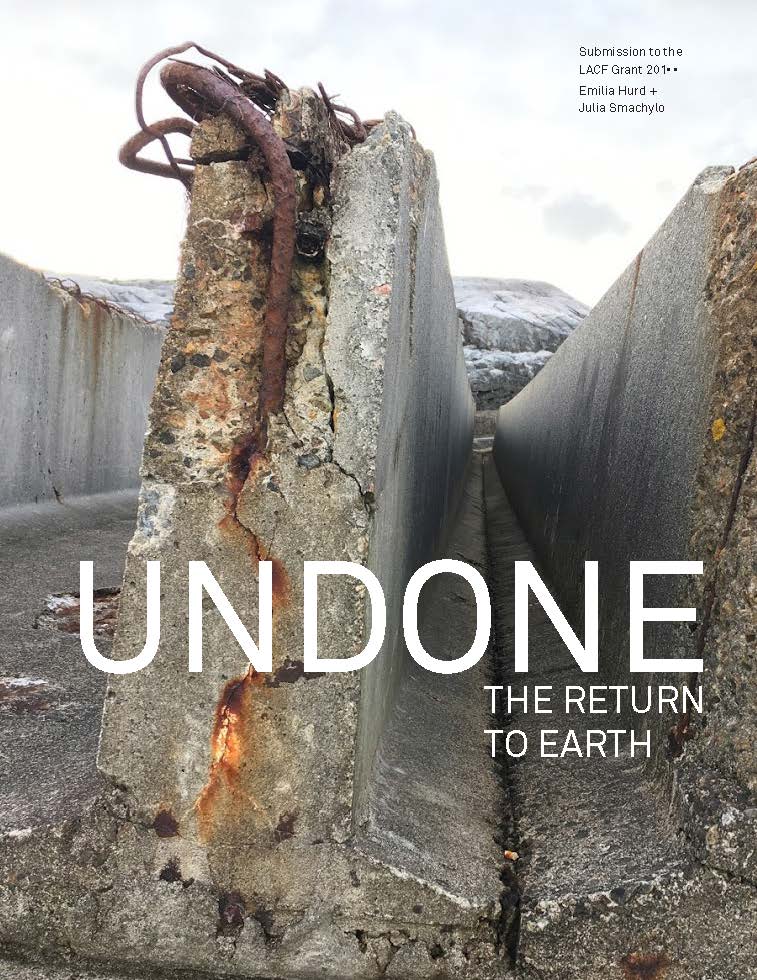 Grant proposal cover page, image by Authors What comes of our landscape architectural projects as they age and evolve? Undone-The Return to Earth is envisioned as both a published book and a web resource.  Landscape architects conceive, craft and construct.  Is there an alternative end state to consider as part of the design process? This research serves as a way to assert the end-of-life as an essential design consideration and point of speculation in the formulation of constructed projects.  
Portfolio Archives #150 
---
4. Dispossession by Design: Recovering the role of landscape architects in the early colonial history of national parks in Canada 
Tiffany Kaewen Dang,Ph.D. Candidate, University of Cambridge, England / Recipient of the Gunter Schoch Bursary / Grant: $6,000
In 2016, the Canadian Parks and Wilderness Society reported the iconic significance of national parks in the Canadian imagination.  However, it masks our dark history of colonization, and the subsequent displacement of many First Nation peoples. The core objective this doctoral dissertation is to bring forward artifacts, documents, representations, policies, and histories concerning the complex and multi-layered history of the Canadian national parks system, revealing its imperial origins and dispossessive design. 
Portfolio Archives #149 
---
5. The Reparative Logics of World War II Confinement Camp Preservation: British Columbia, Alaska and Hawaiʻi in Context 
Desiree Valadares, Ph.D. Candidate, UC Berkeley, California / Grant $5,000
On April 1st, 2017, the British Columbia Register of Historic Places recognized more than 56 sites, buildings, and landscapes as part of the Provincial Recognition Program's Japanese-Canadian Historic Places Project to promote the study, management, preservation, and interpretation of these sites and their associated material culture. 
Portfolio Archives #148 
---
2019 Student Grant & Bursary Awards
6. Literature Review of Available Research on Therapeutic Gardens and Designing for Autism Spectrum Disorders (ASD)  / Emily Thorpe (student intern) with Virginia Burt Designs Inc. / Grant $2,000
The intent of this research is to expand conceptions of universal design by accommodating the needs of neurological-diverse populations, including those with Autism Spectrum Disorders (ASD), in landscape and therapeutic garden design. 
Portfolio Archives #147  
---
7. Developing a manual and framework for iterative place-making in Canada's North 
Thevishka Kanishkan, MLA Candidate, University of Toronto / Recipient of the Northern Research Bursary / Grant $2,000
The goal of this Master's thesis is two-fold.  An easy-to-read well-designed manual for every day northerners to use for iterative place-making.  And secondly, development of a framework for iterative place-making in the north for landscape architects to build upon within the profession. 
Portfolio Archives #146 
---
8. Memory, Place & Change on the Tantramar Marshes  
Aiden Fudge, University of Guelph, Master's Thesis  / Grant $1,500
The Tantramar Marshes, located at the heart of the maritime provinces of Canada, is a landscape layered in cultural and natural significance. As one of the largest contiguous salt marsh ecosystems on the east coast of North America, it possesses a stunning diversity of ecological services. This research will help to inform and empower future adaptive management and conservation practices that seek to respond to the challenges of our times on the Tantramar Marshes. 
Portfolio Archives #145 
---
9. Urban Abundance: Alternative Future Landscape Scenarios to Increase Urban Food Security and Optimize Ecological Integrity in Ottawa, Canadaure 
Kira Burger, Master's Thesis, University of Guelph / Grant $2,000
Urban agriculture, defined as the cultivation, processing and distribution of crop and livestock goods within cities and towns, is widely regarded as an important strategy to enhance urban food security. This research will challenge conventional planning approaches for urban agriculture and contribute to a better understanding of the limitations and potential for cities to enhance both food security and environmental quality. 
Portfolio Archives #144