#117
Recipient
Paula Meijerink, Heather Braiden,
Modèles de Pratique...
Paula Meijerink, landscape architect and cofounder of WANTED Landscape + Heather Braiden, Assistant professor of Landscape Architecture, University of Dalhousie, Nova Scotia   
FR _ Constituant la première étape d'une interprétation sociale beaucoup plus vaste de l'identité paysagère, le projet examine tout d'abord l'intégration des idéologies de durabilité dans le cadre des interventions post-extraction de l'industrie canadienne. Habituellement, la réhabilitation du paysage survient au terme des activités d'extraction de l'industrie. La présente proposition de projet étudie comment repenser intégralement ce modèle de réhabilitation. Le financement de la LACF servira à enquêter, comparer et analyser les pratiques canadiennes contemporaines en matière de stabilisation des sous-produits de l'industrie minière, de la sylviculture et du secteur de l'énergie, pour ne nommer que ceux-là. Les pratiques exemplaires recensées serviront à concevoir des modèles. On recommandera de nouvelles pratiques de réhabilitation des sols et des paysages qui intègrent des techniques innovantes tout au long du cycle de vie d'une industrie. 
La nécessité d'une vaste gamme de pratiques novatrices pour remettre les terres en état augmente puisque le développement urbain est maintenant mesuré en fonction de l'énergie et des matériaux qu'il consomme à l'échelle mondiale. Le projet offre aux architectes paysagistes l'occasion de formuler des hypothèses sur de nouvelles formes d'interventions. Ce projet sera présenté lors d'une conférence universitaire et le produit final prendra la forme d'un article dans une revue à comité de lecture. 
---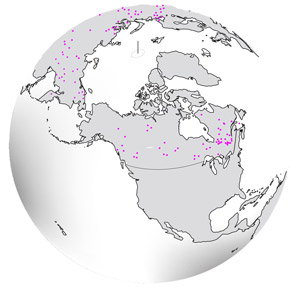 PROTOTYPES FOR PRACTICE: A Survey on Contemporary Soil and Landscape Recovery in Canadian Natural Resource Extraction. 
Set as the very first stage of a much larger social reading of landscape identity, this project begins by exploring how sustainable ideologies are supported in Canadian post-extractive industries. Traditionally, interventions in landscape recovery occur as industry retracts. This project proposal questions how this model can be rethought, literally, from the ground up.  The LACF funding will used to survey, benchmark, and analyze contemporary Canadian practices in stabilizing the by-products of mining industries, forestry, and the energy sector to name a few. Once 'best practices' have identified, the information will be reconfigured into designed prototypes. New practices in soil and landscape recovery will be recommended by interweaving innovative techniques throughout the entire lifecycle of an industry. 
The need for large scale and inventive practices to reclaim land are on the rise, as urban development is now measured by the energy and materials it consumes on a global scale. Herein lies an opportunity for landscape architects to hypothesize on new forms of intervention. This project will be disseminated at an academic conference and the end product will take the form of a peer-reviewed journal article. 
---
UPDATES | MISES À JOUR
15.05 _  Power Point Presentation given at 2015 Mexico Congress / Heather Braiden
15.06 _  Mindfulness: Perceptions of tailings and the local landscape in Thetford Mines, Quebec  Paper by Heather Braiden and Paula Meijerink VAF Chicago 2015 / This paper was presented at the Vernacular Architecture Formum 2015 > http://vafweb.org 
16.11 _ Preliminary Article for THE SITE MAGAZINE  by Braiden,Meljerink  +  About THE SITE MAGAZINE